Radio Shalom 1650AM in Montreal
Money and Business show
Host Samuel Ezerzer
November 16th 2011
http://www.radio-shalom.ca/mp3/Programs/1042/1379.mp3
listen to the show
Money Money and Business
www.radio-shalom.ca
INTRODUCTION
A key finding of recent research by the McKinsey Global Institute is that the US economy has been experiencing increasingly lengthy "jobless recoveries" from recessions in the past two decades. It took roughly 6 months for employment to recover to prerecession levels after each postwar recession through the 1980s, but it took 15 months after the 1990–91 recession and 39 months after the 2001 recession. At the recent pace of job creation, it will take more than 60 months or from December 2010 for employment to recover , if history is any indication that will be sometime in 2015 that employment in the USA will recover. But as the European debt crisis gets worst by the day, treasury Secretary Timothy Geithner told a congressional panel last month that the debt crisis has already slowed growth significantly in Europe and around the world. European leaders must move quickly to contain it.
He said "The crisis in Europe presents a very significant risk to global recovery," Geithner said during a hearing of the Senate Banking Committee. "Europe is so large and so closely integrated with the United States and world economies that a severe crisis in Europe could cause significant damage by undermining confidence and weakening demand, and will prolong the employment recovery. New U.S. claims for unemployment benefits fell below 400,000 for the first time in five weeks, suggesting a modest improvement in the still-moribund labor market. Initial claims for state unemployment benefits dropped by 9,000 in the week ending Oct. 29 to a seasonally adjusted 397,000, the Labor Department said on Thursday. "The labor market continues to stabilize in terms of the amount of people losing their jobs but … the pace of adding new ones still remains underwhelming,"
So will Europe specifacally Italy the 3rd largest sovereign debt holder behind the USA and Japan delay America's employment recovery , or will there be a fast appreciating renminbi and thus will it create more jobs on American soil? And will a new round of stimulus or QE3 will it give it a boost to the a dismal American economy? And how much longer will real estate price be at the bottom even though there has been a modest gain in Appartment Construction?
Money and Business presents Glenn Parker
Glenn Parker is certified financial planer and is also a certified management analyst ,founded in 2005 Wychick Investment Advisors, has been in the investment business serving both individuals and institutions since 1991. He co-hosted 'Dollars and Sense with Glenn and Stein' on KBNW 1340 AM Bend. He has an MBA and a combined Civil Engineering and Business degree from McMaster University in Canada. He is a member of the Investment Management Consultants Association, the Real Estate Investment Securities Association, and the CFP Board.
Glenn has been an Adjunct Instructor at Portland State University and is a regular seminar speaker and column writer to various financial and general news publications. An avid athlete, Glenn enjoys cross-country skiing, running, cycling, sports car racing and endurance motorcycling. He still plays hockey and is hopeful that the Toronto Maple Leafs will win another Stanley Cup in his lifetime.Wychick Investment Advisors is an Investment Advisory and Wealth Management firm located in Bend, specializing in investment management and financial planning for affluent individuals.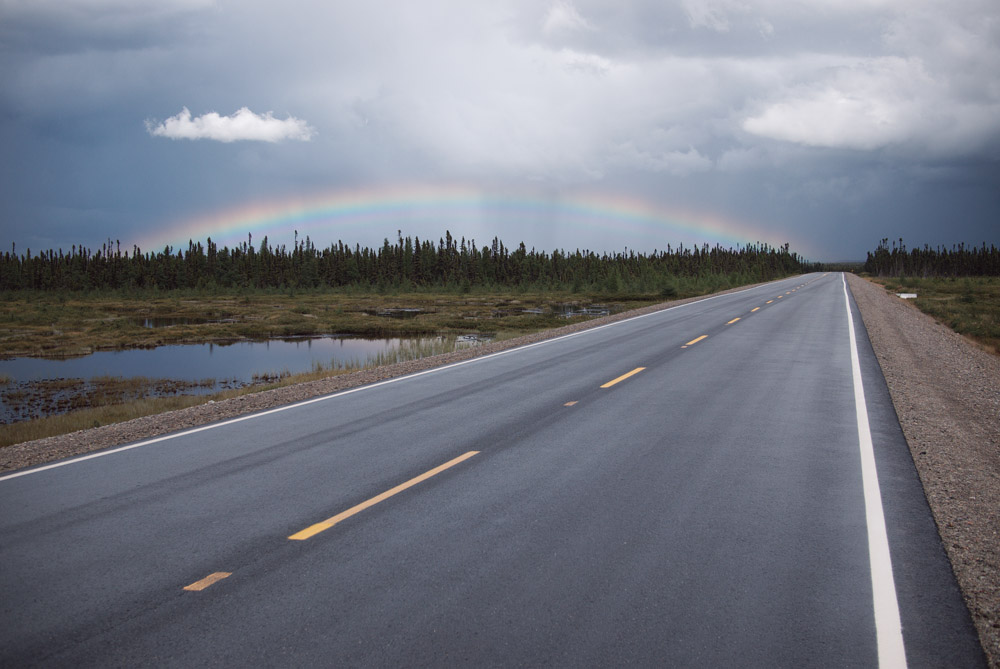 (For almost its entire length, the TLH runs through dense wilderness, with absolutely no roadside services between communities. Travellers attempting to drive the TLH in winter months should plan accordingly as weather and road conditions can be extremely unpredictable
it's a 1100 kilometer road that starts near Baie-Comeau, goes through some of the Quebec and Labrador hydroelectric projects including Manic Cinq and comes out in Goose Bay Newfoundland. )
In 1997 the Government of Newfoundland and Labrador committed to building an extension of the TLH, connecting Happy Valley-Goose Bay with an existing isolated road network serving coastal communities on the Strait of Belle Isle. The impetus for this project was the federal government's desire to cut costs and remove itself from subsidizing coastal ferry service to Labrador outports which was being provided by the federal Crown corporation Marine Atlantic.
This adventure was chronicled in BMW Motorcycle Owners News in Dec 2009 and is also published in the current issue (Nov/Dec 2011) of RoadRunner magazine?
Questions
1. Data In the USA showed October retail sales rose more than expected and November manufacturing in New York state was positive for the first time in five months. Consumer spending is the biggest part of the economy and needs to keep growing to boost the U.S. economy as the European credit crisis threatens to slow overseas sales.
What's the general mood of the U.S. retail investor these days?
(Retailers in the U.S. are widely planning to use discounts to lure shoppers during the holiday season, and more and more stores will open Thanksgiving night to get a jump start on the all-important Black Friday shopping event.)
2. Glenn If you want an illustration of how difficult the environment has become for equities investors, consider the fact that US stocks have now underperformed bonds not just in the short term but in the past 30 years, which is something they haven't done in any other 30-year period since the start of the American Civil War. That's right - since 1861. Where is the average retail investor in the USA investing their money these days?
3.glenn-What are some of the differences between U.S. investors and Canadian investors?
4. glenn-How does the average U.S. investor look at Canadian investments?
5. glenn-The latest housing headlines are far from encouraging: foreclosures are up, home prices are down and new-home sales are at record lows,
How has the decline in residential real estate affected the overall attitude of retail investors?
6. Glenn -What is the decline in real estate values doing to capital flows and personal balance sheets? Deleveraging?
Lawmakers from both the republican and democratic parties have expressed shock at revelations the two mortgage finance firms Fannie Mae and Freddie Mac which have been propped up with about $169 billion in taxpayer aid, were paying out $12.79 million in bonuses for ten executives.
Edward DeMarco, acting director of the Federal Housing Finance Agency, told the Senate Banking Committee , defended the pay as needed to retain qualified executives to manage risks and limit taxpayer liabilities, an effort to push back against moves by lawmakers to block it? What do American feel about these ridicules compensation packages?
Waiting for the bottom may not be the smartest strategy. Calling the market low is a very difficult task glenn; For one thing, there's no agreement on when the U.S. real-estate market will officially touch bottom? Have we hit bottom?
Glenn -The two most important factors governing the health of the housing market are: the state of the labor market and the pace of foreclosures .On the demand side, high unemployment and foreclosures will greatly reduce the pace by which new households are formed?
 
 
Glenn -Fewer new households will be created as young adults stay with their families longer or live with roommates amid high unemployment and concern about job security?

Glenn -A leading economic Think-tank the national institute of economic and social research in the UK says inflation will undermine any price rises, with mortgage lending and building activity both down,house prices will fall in real terms for the next five years, (NIESR) warned , as new signs emerged that the already bad market is not getting any better" inflationary pressures in the coming years would erode any rise in nominal house prices. What do you think the housing market will do over the next five or ten years?

Is this a good time for Canadians to be buying U.S. properties?

Glenn -You've lived in the United States for twenty years now. What has changed for the average person in the U.S. in the two decades since you left Canada?
You're 49. Do you think the Toronto Maple Leafs will ever win another Stanley Cup? J
12 Financial Resolutions For 2012
http://www.wychick.com/
Now that another year has begun, are you ready to take control of your financial life? These practical suggestions could help you do just that.
1. Draw up a budget. Spending more than you earn always ends badly, so resolve to learn to live within your means. Commit to a reasonable monthly plan that is neither unattainably strict nor just spending as usual.
2. Prioritize your debt. One budget item will be loan repayment, and while you may be locked into long-term commitments on a mortgage and car loans, you have much more control over credit-card balances and other short-term borrowing. To improve this part of your balance sheet, start with high-interest liabilities.
3. Review investment allocations. Does your portfolio mix of stocks, bonds, and other investments make sense in light of your financial goals, investing timetable, and ability to tolerate market ups and downs? Checking in now could be particularly important in today's uncertain economic environment. (Just keep in mind that while asset allocation is a sound investment principle, but it won't protect you from losses in declining markets.)
4. Boost your retirement nest egg. Being able to live well in retirement is an investing priority for most people, and the new year is a great time to increase payroll deductions for a 401(k) plan at work or to put more into an IRA. (Contributions for the 2011 tax year can be made until April 17, 2012.)
5. Set aside money for a rainy day. Could you cope with an unexpected emergency? Try to keep a cushion that will last three to six months.
6. Dust off old insurance policies. An annual review of life, home, and auto policies could help ensure that you have the right amount of coverage.
7. Incorporate estate tax changes. This could be the last year for generous exclusions from gift and estate tax liability, with an individual exemption for 2012 of $5.12 million. So talk with your attorney to get your estate plan is up to date.
8. Close unnecessary bank accounts. Banks have been ramping up fees, and if getting rid of unneeded accounts saved you $10 a month, say, investing the savings at an annual 7% rate could give you almost $12,000 after 30 years.
9. Go paperless with your financial records. Keeping track of bank and investment accounts electronically is faster and more secure.
10. Do what you love to do. What better time to resolve to trade a dead-end job for one that utilizes your skills and fuels your passions?
11. Educate yourself. The more you know about investing and other financial matters, the more likely you'll make informed decisions.
12. Develop a plan. You'll be more likely to keep your financial resolutions if you put them down in writing and track your progress throughout the year.
---
Samuel Ezerzer Bsc, Producer & Host of the Money & Business Show